SHINE ONLINE HUB ~ monthly membership
Our newest offering is geared for small business owners who want to up their client attraction marketing skills!
Why? Well, it's kind of my superpower!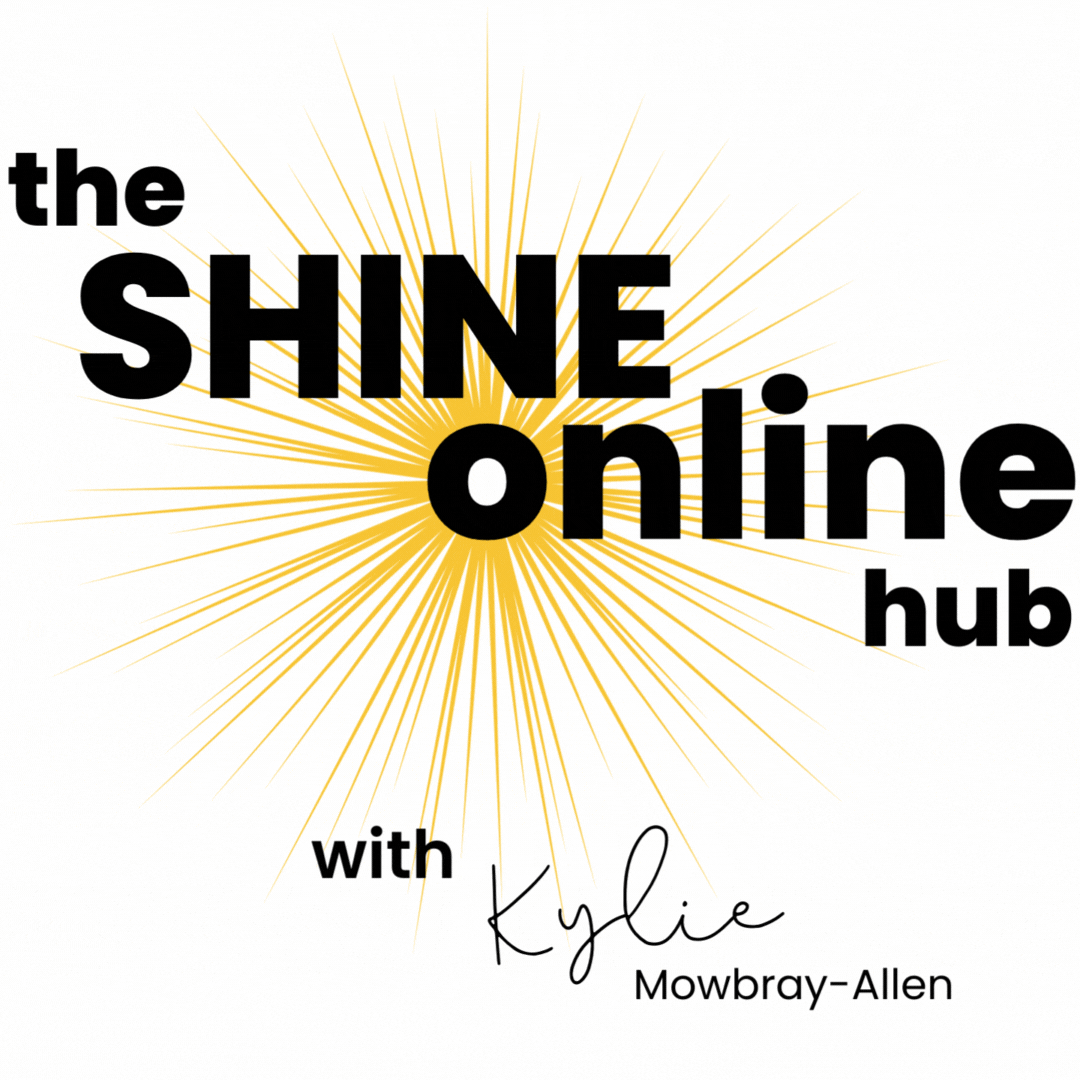 What's in your membership?
4 awesome things every month!

🌞 Zoom session ~ LEARN ONLINE ~ live online! (this could be creating reels using apps, new Canva features, new social media changes or how-to's) held on the 1st Tuesday of every month, 8am AEST.

🌞 Instructional Video for you to keep, showing you how to do important things (such as schedule content in Meta Business Suite, or create your own Youtube or Podcast show!) ~ 2nd Tuesday of the month.

🌞 Zoom session ~ AMA (Ask Me Anything) ~ live online! 3rd Tuesday of every month 8am AEST)

🌞 Challenge Resource for you to keep and action; it'll be a how-to guide, checklist or audit with a challenge for you to finish included. Accountability equals productivity!
Jump in! $89 p/m
The coolest and most surprising GEM in the SHINE ONLINE HUB membership?
It's got to be AMA-LIVE-ONLINE! (that's Ask Me Anything!)
Without a doubt, this feature will deliver the greatest value to our members. Even if you don't have your own questions, joining the monthly AMA Zoom session with the group and witnessing fellow members overcome challenges & obstacles and find solutions is incredibly valuable.
Plus, you get direct access to ME - Kylie Mowbray-Allen - 2x per month!
AMA will not be recorded, creating a safe space for members to share sensitive info and ask questions they might otherwise be hesitant to bring up.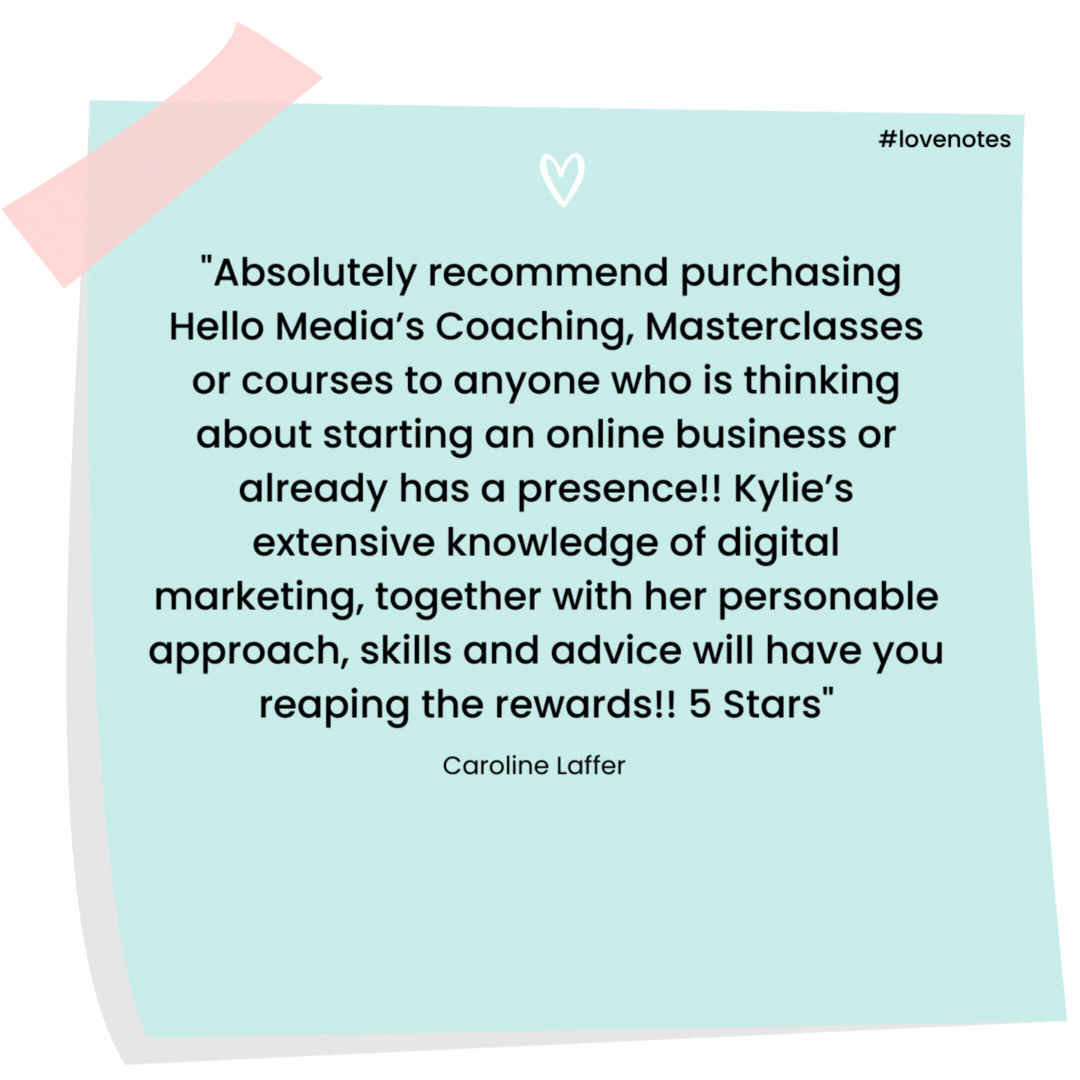 On the fence about joining?
I get it — investing in a membership can feel like a big commitment. But imagine having ME in your corner, guiding you through the ever-evolving world of digital marketing and client attraction marketing, while being surrounded by a supportive community of fellow entrepreneurs.
This membership not only helps you shine online, but also empowers you to create and manage your own client attraction marketing.
So, take a chance on this and watch your business shine online like never before.
Remember, the SHINE ONLINE HUB, you're investing in the future success of your business. Don't let this opportunity pass you by—join us today and get ready to sparkle!
p.s. Our Bronze, Silver and Gold Hello Media stars get this FREE as part of their coaching programme.
Click here to join
Ready?!!
So I'm finally launching what so many have been asking for. An affordable monthly membership called SHINE ONLINE hub ...
I started Hello Media over 7 years ago, but have been in the media, marketing & advertising space for nearly 30 years.
Since launching Hello Media I have celebrated many client milestone successes, helping them get visible online, and growing their businesses.
Nothing is changing in my existing business which consists of two parts;
I'm still running my regular coaching programmes (gold, silver and bronze) which consist of weekly group coaching, full-day masterclasses, and 1:1 sessions with me, where we work on EVERYTHING to turn you into a digital marketing superstar. We help SMBs of every industry imaginable learn how to manage and grow their business through increased online visibility and client attraction strategies, through our unique Hello Visibility methods.
Plus there's our social media agency side of the business, with our complete DFY packages, where we run your socials, blogs, and newsletters and make you look like a digital marketing superstar!
As we have limited places in our coaching programmes, and as we get asked literally every single day for help in some way, whether it be how-to-do this, or how-to-do that, what's the best this, or what's the best that, we've responded with a whole new programme which is launching on MONDAY and I'm giving you a sneak peak now, to see if you want to be first in the door!
If you want in, at just $89 ex GST per month (cancel anytime) click this link and sign up now!
If you'd like. to explore our coaching programme offerings - click here for Gold, Silver or Bronze.